You want to get bunch of backlinks in the shortest time possible?

Say no more, that's what I will show you today.
Here's how I did it:
Find all mentions
There are plenty of different ways but this is what I do and it works perfectly.
When reverse image searching your goal is to find other websites that have used your images without linking to your website.

When people mention your brand they usually use your logo so that's the perfect way to start with the reverse image way.

Go to Google images: upload your logo and see if there are other sites besides yours that have used that image.

Start a list and begin adding everything you find to this list.
Ahrefs' content explorer is a powerful tool for research when used right.

Open Ahrefs, click on Content explorer

Click on "Highlight unlinked domains" add your domain to make sure you see only sites that don't link to you already.
This should lend you a few articles as well
Look for brand mentions that haven't mentioned Google search

This search shows only websites that have mentioned "your website" but aren't your site:
your brand -site:yourwebsite.com
Another search that found interesting results were:
intitle:"your brand" -site:yourwebsite.com
And the last one:
intext:"your brand" -site:yourwebsite.com
The first search looks for your brand name in the title and the second in the text.
Thanks to this you should've gotten bunch of more new leads. Now let's move to finding the contact of those leads.
Finding emails
When asking for links, being as personal as possible does help a lot. When looking for emails it's always best to look for the personal email of the writer.

If there's none, I always look for the email of the main editor. If again, that's not possible, I look for a human's email and not something generic like hello@example.com.

Worst-case scenario I usually send an email to the hello@example.com because you haven't done all this work to end up with empty hands.
For the search, I use "Hunter" a Google extension for that looks for email data on a website
This is what it looks like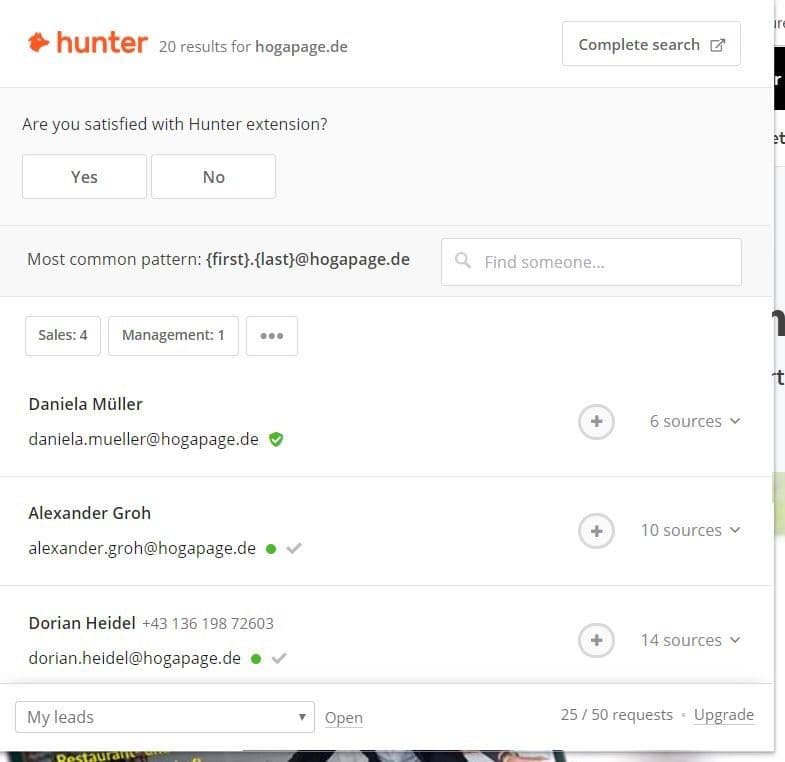 The article in question here I couldn't find the email of the author but I did find a lot of other emails. So I checked each of them to find a chief editor, PR or something along these lines.
After a quick Linkedin search on, it turned out the first one is the email of the "chief editor" which was good enough.
Outreach
Time to craft an email template, this is my starting point usually:

Hey "insert name",

Was pleasantly surprised to see that you've mentioned our business in your article: "insert to article".

It would be great if you could link the "insert brand name here" with the following URL "(insert your URL here)" in the text.

Thanks in advance for checking it out, and thanks for such an interesting write-up about us.

Best,
Once the template was ready, I apply some changes to make it more personal and we're ready to go.
For each email, I make sure to include the name of the "receiver" and changed the text based on the case scenario to increase relevancy.
Final words
Brand mentions is by far the easiest way to get some links to your site without having to spend days doing link-building campaigns.